My Team
As a Financial Advisor, Molly is committed to helping clients by providing expert guidance and innovative solutions. Whether you are concerned about your own financial needs or those of your family or business - you placed your trust in Molly and she's committed to honoring that trusted relationship. No one can do it alone! Meet the team:
Together, we stand committed to providing the best client experience and service possible.
Molly and coach Heidi celebrating a year of hard work at Northwestern Mutual's Regional Meeting.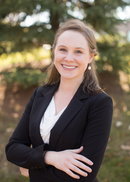 Sarah J Lafleche
Communication and Marketing Manager
Office 651-714-6817

Sarah joined Molly's team in August 2016. She is the main point of contact for coordinating meetings, case preparation, data management, and marketing. She is available to answer questions and assist with client servicing. 
In her free time, Sarah enjoys working on remodeling her new house with her husband and spending time with friends and family. She also enjoys reading - especially her comic books!